Dr. Rodrigo Romano gave the following speech at the February 9, 2019 Florida Association of Periodontists Business Meeting: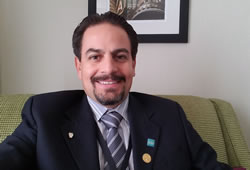 Dear Prestigious Members, FAP board, our Executive Director, Honored Guests, and Residents,
It is of great honor and pride to stand here in front of you to receive the privilege to serve as your FAP President. This is not a simple task because it requires a lot of your continued support and guidance. I need every single one of you to continue helping our Florida Association of Periodontists so it may prosper and grow. As your immediate past chair of Membership for the ADA, I can tell you that membership is one of my top priorities. Membership is the key element to building a strong association. We must continue to encourage all our Florida Periodontists to unite and become members of the FAP.
During my year as your president, I promise to continue to strengthen our specialty and protect it. Dentistry is facing many changes, and our specialty is seeing the tougher side of it all. We have an amazing specialty that focuses on the overall health of our patients, let us not forget that, but let's find ways to make us stronger. Periodontal disease is not a myth, it is an ongoing disease that affects millions of people every year and we, as Periodontists are the only ones that truly understand it. We need to go back to the core of our specialty and continue to demonstrate the importance of maintaining a healthy natural dentition.
We have many great weapons that no other dental specialty knows how to implement as well as we do. Yesterday, Dr. Duarte stated during his Senior Resident Presentation, "Sorry that I will present old-fashion surgeries". I applaud him and all our residents for bringing forward the great old-fashioned periodontics built into new materials and procedures. Crown lengthening, guided tissue regeneration, osseous surgery, proper scale and root planning, and soft tissue grafting are just a few amazing treatments that separate our specialty from all others.
Our great future lies within all of you and specially all our future periodontists. I want to thank our faculty for guiding our residents and allowing them to take time off to attend our meetings. We are here to help every single one of you grow so one day you will become our leaders. I encourage you all to continue to question everything that is presented to you and continue to find the best solution to the problem. Please remember, our late Dr. Gerald M. Kramer words of wisdom. "Treat each patient like they are your mother and you will do okay."
Last year, The American Academy of Periodontology separated from The American Dental Association because of a conflict in their bylaws, a change on a mandatory membership criterion. I can tell you that from personal conversation with both associations and as a member of both, they feel very strong and united, so I strongly encourage everyone to continue being part of their membership. The ADA, our national; and the FDA, our state dental association are the voice of dentistry, and the only way that we can continue to stay strong is the unity among all levels of dentistry. That means… AAP, ADA, FDA and FAP…. together is the only way we can Help All Members Succeed.
Three years ago, we created our FAP PerioPac headed by Dr. Mark Abdoney.  It was created to protect and advocate for all our Florida Periodontists. By having our PerioPac it places us at the table and allows us to have deeper conversations with lawmakers. I encourage everyone to please continue to support it.  Without it, we could fall behind the trenches and lose many upcoming battles.
Your board has helped me develop an amazing two series course for the upcoming year. The focus is the unity of all your team players, your whole staff, and your general dentists with their staff, so they can
also understand what other benefits you can bring into their practice. Please bring your family to both meetings since they will have a chance to experience both large parks, Universal and Disney. This year at the 2019 Florida Dental Convention the FAP is sponsoring our very own, Dr. Gregory Oxford.  I truly hope that everyone here has a chance to attend the meeting.
There are many great things our FAP is doing behind the scenes in Florida, but a particular one that will take your heart and dedication to dentistry to the next level is the Florida Dental Association Foundation Florida Mission of Mercy  I challenge every single person in this room to donate their time and skills to the FLA-MOM Event this year, you will be changed forever. It is a life changing experience that cannot be explained unless you are involved.
I would like for everyone to please give a loud applause to Denis, Julie, and Carlos from Geistlich, they continuously provide the FAP and our residents their support and leadership.
Last but never least, in my heart is Dr. Beatriz Terry.  She is an amazing leader, full of energy, well-being, an amazing human being, full of righteousness and clarity, and she has taught me throughout the years to stay focus and always transparent.
I am looking forward to our 2019-20 year and please.  don't be shy. I am only a text away.