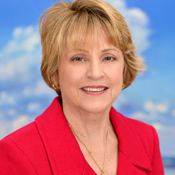 Dear Colleagues,

I recently received a text from my 47-year old niece, who lives several hours away from me.  It
read, "I just had CO2 on my gums the other day." Upon further inquiry, she said she was in her fourth week of localized antibiotic therapy by her general dentist for treatment of a localized reactive gingival lesion.  There was no definitive diagnosis, as no biopsy had been performed and he had not referred her to a Periodontal specialist.  Her periodontal health has been under the control of her general dentist for greater than ten years and she expressed great confidence in his care.

Today, a growing number of General Dentists are treating periodontal disease, both acute and chronic, in their offices and referring their patients to the Periodontist only when all else fails.  All too often, Periodontists are invited to join the patient's Dental Team when years of non-surgical maintenance therapy can no longer hide the fact that natural teeth are in danger of being lost and the patient is not okay with it.  In these instances, the General Dentist, and even their dental hygienist, act as Gate Keepers, deciding who would benefit from a thorough Periodontal Evaluation by an expert, and when.  There is another less-traveled path for patient referrals that can offer the public an alternate route for accessing and achieving the highest levels of periodontal health.  That path involves developing a deep and meaningful relationship with the Medical Specialists in our communities. 

I am suggesting that Periodontists forge a new Team, paired with Medical Specialists including Cardiologists, Endocrinologists, Rheumatologists, OB-GYN, Orthopedic Surgeons and others.  Our literature is replete with examples of the association between chronic medical conditions and chronic periodontal disease.  Using a Medical-Dental Team approach, a thorough periodontal examination would be performed as part of the Medical Patient Examination, with the results entered in the patient's medical record.  The Periodontist can then be made aware of the extent and severity of the patient's medical condition including, but not limited to, active therapies for Osteoporosis, Diabetes, Cardiovascular disease, Metabolic Syndrome, Alzheimer's disease and Autoimmune diseases, on a routine basis.  The Medical Specialist would be updated periodically of the patient's ongoing periodontal diagnosis and status.  Developing this professional team approach may at first be viewed as difficult, but lunch, dinner, golf, attending professional meetings, sharing ideas and making new acquaintances are not activities mutually exclusive to either group. 

The following is an example of how the Medical Specialist and the Periodontist can work together for the good of the patient.  The Periodontist would provide multiple copies of the Periodontal Clearance Letter (PCL, included below), tailored to the Medical Specialty office, and delivered during a prescheduled business meeting.  They should also include a short, current literature review specifically targeting that Specialty and its relationship to Periodontal disease. (Note:  The PCL should be personalized using your own letterhead and the physician's name and contact information should be provided at the bottom of the letter. ) The object of this letter is for the Medical Specialist to be advised of the patient's suitability for surgery, based on the state of their current periodontal and dental health.  This examination would also provide the patient with their periodontal diagnosis, including treatment recommendations. For those of you who already have established relationships with Medical Specialists in your area, our membership would be interested to learn how this is impacting your practice. I would welcome your comments @sdlamardmd@gmail.com.
Sincerely, Dr. Susan D. LaMar


enc:  Periodontal Clearance Letter

(Periodontist's Letterhead)

PERIODONTAL CLEARANCE LETTER

RE:_______________________________________      DOB:_______________
            (patient's name)

Address  ________________________________________________________

Phone number_____________________________

Dear Dr.   (periodontist's name),

The patient noted above is scheduled to undergo ________________________

Surgery on ________________________________________________________.

Prior to surgery, it is important to verify that the patient has had a Periodontal/ Dental examination within the past six months,

has no current dental infections and no anticipated dental care within the next six months, excluding restorations.
____They are scheduled in your office on  _________________to perform this evaluation. (or)

____Please call them to schedule an appointment.

This letter is an important part of our preoperative patient evaluation. 

Please FAX this letter back to us as soon as possible.

Thank you for your assistance.
______________________________________________________________________________________________
Physician's signature
I certify that the patient has had a periodontal/dental exam within the past six months and does/does not have a dental infection requiring treatment.
Date of Periodontal/Dental exam                  __________________________________________

(periodontist's name printed )                         __________________________________________

Periodontist's signature:                               __________________________________________

Date:                                                             __________________________________________
Please FAX this letter to         (physician name, contact information & FAX number)